DMY MakerLab results
Pixelache Helsinki and many other organisations from Finland participated in this year's
DMY MakerLab
in Berlin. DMY Berlin had a special Finland country focus this time in anticipation of the
Helsinki World Design Capital 2012
year. Here are some glimpses of some of the activities that took place:
Bartaku's Temporary photoElectric Digestopians Worklab
produced some beautiful solar energy snacks which were enjoyed under the hot Berlin sunshine. Some photos
here
+ Bartaku's
interview by Regine Debatty at WMMNA
.
The
YKON Game
was one of the nominees for the
DMY 2011 Award
. They  experimented with some new game formats in preparation for their large scale Brazil project this summer.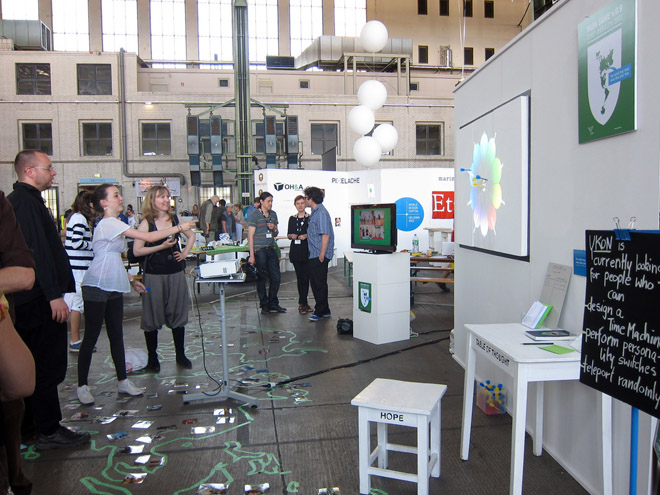 The Low2Now Camp
project brought a busload of urban activists from Helsinki to Berlin. During three days they were running the Low2No School of Activism and in visited various venues and organisations around Berlin. More information and great examples of urban grassroot initiatives can be found at
Low2Now Camp blog
.
Massimo Menichinelli
gave two presentations: 'Open P2P Design' and 'Open P2P Design & Markets and business models for Open and DIY projects'. You can find the presentation slides
here
.
We*Love* Open Data
is a bunch of open data researchers and enthusiasts from Helsinki. During DMY they managed to collect and visualize information about rental prices in Berlin. In addition, Miska Knapek presented his 'sculptures' that visualize long time spans of weather data. More info in
weloveopendata.com
blog.
The most popular Finnish attraction in DMY MakerLab (and probably who DMY) was the colourful
Marimekko
stand, a non-stop fashion accessory workshop realised in collaboration with Etsy.com:
Our neighbours
Fungutopia
were giving workshops on how to grow mushrooms and in MakerLab spirit gave us a lot of practical help during the setup days... vielen Dank!
* * *
You can find more information about these and other MakerLab projects from
DMY Berlin website
. All the photos above (except the one about Bartaku's workshop) can be found from my
DMY Berlin photoset
.
To finish this posting, here is short video of the MakerLab area (I'm just simply walking through the area):